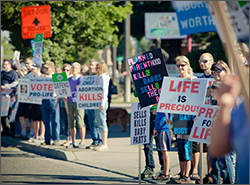 #ProtestPP is a coalition of state and national pro-life groups calling for public protest in response to the recent horrifying revelations that Planned Parenthood has been involved in the illicit trafficking of aborted babies' body parts.
Americans on both sides of the abortion debate have been deeply disturbed by what they've seen in the series of undercover videos released by the Center for Medical Progress. Many pro-life Americans have been inspired to get more actively involved in the pro-life movement—and #ProtestPP is there to put them to work on the front lines.
Through public protest at Planned Parenthood facilities, we seek to focus media attention, both locally and nationally, on the baby parts scandal, educate our communities about Planned Parenthood's harmful impact on our society, and demand an end to funding of this controversial and corrupt organization in all state and federal programs.
We also seek to increase the ongoing pro-life presence at Planned Parenthood's abortion facilities and referral centers throughout the country, as an essential component of the long-term effort to stop Planned Parenthood from preying on our families once and for all.
The primary sponsors of #ProtestPP are Citizens for a Pro-Life Society, Created Equal and the Pro-Life Action League. These three national activist organizations are joined by over sixty state and national pro-life groups committed to exposing the truth about Planned Parenthood and mobilizing the response of pro-life Americans to the baby parts scandal.
Planned Parenthood: Bad for America
Planned Parenthood is the nation's largest abortion chain, responsible for over 300,000 abortions annually—nearly a third of the national total. As the abortion rate declines in the United States, Planned Parenthood's share of the abortion business only increases. A third or more of their clinic income is from abortions.
In addition, Planned Parenthood has been caught sheltering child predators, coaching minors on how to skirt parental involvement laws, defrauding state governments on Medicaid reimbursements, gaining entry to communities by hiding their true identity behind front companies, and committing countless acts of medical malpractice up to and including wrongful death.
And now we learn that Planned Parenthood officials at the highest level have conspired to increase their abortion profits through the illicit sale of aborted babies' body parts. The cold and callous manner in which Planned Parenthood physicians, administrators and technicians discuss the killing and dismemberment of unborn children in the undercover videos has horrified even Planned Parenthood's allies in government and the media.
It is time for the federal government and state attorneys general to thoroughly investigate Planned Parenthood, bring to justice every Planned Parenthood official guilty of crimes, and cut off all taxpayer funding to this corrupt organization.
National Days of Protest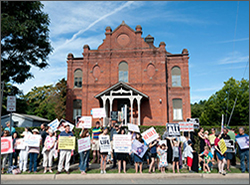 On Saturday, August 22, 2015, over 78,000 Americans answered #ProtestPP's call for a national day of protest at Planned Parenthood centers. Protests were held at more than 340 Planned Parenthood locations throughout the United States, as well as several in foreign countries.
Hundreds of television, newspaper and radio stories covered this event, the largest series of simultaneous pro-life protests in history. #ProtestPP was the number one hashtag trending on Twitter and Facebook during this epic protest day. Millions of Americans were reached with #ProtestPP's message.
Local protest leaders throughout the country reported a renewed commitment to pro-life activism in their communities, with many pro-life citizens putting their convictions into action for the very first time—and vowing to help sustain the pro-life presence at Planned Parenthood's abortion centers.
To build on the impact of the first national day of protest in August and keep the Planned Parenthood scandal in the public eye, #ProtestPP organized a second day of protest on Saturday, October 10, 2015.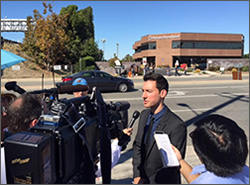 Once again, tens of thousands of pro-lifers turned out at hundreds of protest sites, earning outstanding media coverage of the protests and the videos that inspired them. David Daleiden, the man behind the Center for Medical Progress videos, spoke at the #ProtestPP event in Orange, California—a facility targeted by his undercover investigation.
Together, the 2015 #ProtestPP effort brought 654 individual protests to 374 Planned Parenthood facilities throughout the United States—including abortion clinics that had not seen pro-life witness in years.
In April 2016 #ProtestPP launched the first-ever annual nationwide Planned Parenthood protest, with plans to hold such a nationally coordinated event every April. And in October 2016, #ProtestPP prayer vigils were held at over 100 Planned Parenthood locations to mark the organization's 100th anniversary.
For 2017, #ProtestPP is focusing on the fight to strip Planned Parenthood of their federal funding and shift those taxpayer dollars to federally qualified health centers that offer a far wider range of services and do not perform abortions.
Watch the Center for Medical Progress Videos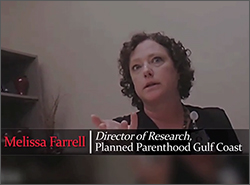 On July 14, 2015, the Center for Medical Progress released the first of what would become a series of undercover videos showing Planned Parenthood officials discussing how to profit from the sale of aborted babies' body parts:
Primary Sponsors
Co-Sponsors
To contact the #ProtestPP national team, use the contact form here, email info@protestpp.com or call 773-777-2900.
Media Inquiries
Reporters can reach the three #ProtestPP national directors for comment as follows:
Monica Miller, Citizens for a Pro-Life Society: 248-444-9096
Mark Harrington, Created Equal: 614-419-9000
Eric Scheidler, Pro-Life Action League: 773-251-8792