Media and messaging for your protest
Note: The instructions on this page were provided for a previous event. Find instructions for #ProtestPP's current activity protesting Planned Parenthood partner Stericycle on May 22nd here.
Part of the ongoing impact of the upcoming #ProtestPP Nationwide Candlelight Vigil effort will be the media coverage we earn that spreads the story far beyond just those who pass by on the day of the event. Use the tools below to reach out to local media and get them interested in coming out to cover your event.
Earning media attention for your vigil starts with understanding the media and familiarizing yourself with all the media outlets in your area. Start by reading the 10 Commandments of Media Relations [PDF] by Tom Ciesielka of TC Public Relations. These rules will help you get the best cooperation from the media you can by understanding what attitudes and actions will help get your story told.
Talking points: know your message
The very first step in earning good media coverage of your vigil is to have a strong command of your message. For April 13 our core message is this:
"As Planned Parenthood seeks to expand abortion in all 50 states, our fellow Americans need to know the truth about this controversial organization, including their 36% share of the abortion market."
To back up this core message, the following 4 points should be emphasized:
Planned Parenthood is the nation's largest abortion chain.
Planned Parenthood is a bad actor and a lightning rod of controversy.
Planned Parenthood exaggerates their role in providing health care to women.
Defunding Planned Parenthood would not reduce funding for women's health.
Each of these 4 points is spelled out in detail in a page of Exposing PP Talking Points [PDF] which you should download and print out. This page also includes answers to several questions you are likely to be asked. This material is also available on the About #ProtestPP page, if you need to link to the complete Talking Points online. (An earlier version of this Talking Points document is also available in Spanish [PDF].)
Click here to download the Exposing PP Talking Points PDF.
Researching the media in your area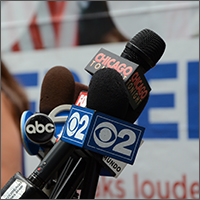 You can't expect to get good media coverage if you aren't really familiar with the media in your community. You probably know the call numbers of some of the local radio and TV stations and the name of the main newspaper, but now it's time to go deeper and really get to know those media outlets.
Compile a media list to which you can distribute your press release when the time comes. To help you make a comprehensive list of the media in your area, check out MondoTimes.com, a directory of local media outlets. Also see if there are local news websites like Patch.com in your area. Write down website, phone numbers and email addresses for all these outlets.
Find out what reporters in your community have already written about abortion, religion or activism on other issues. They will likely be interested in the story the Nationwide Candlelight Vigil is telling, and you should reach out to such reporters directly.
Sending out a press release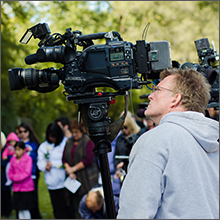 Once you've compiled your media list, the next step is to prepare your press release. Download this sample press release template and carefully fill in your local information, as indicated by the bracketed text in the document.
You may use the quotes provided for you in the template, or may prefer to use your own words. Be careful to delete all of the brackets themselves from your final press release, and ask someone else to proofread it for you.
Send out your press release to all of your local media contacts on Monday, April 8 and again on Friday, April 12. (If your vigil is on a date other than April 13, adjust these dates accordingly.) Ideally, send the release individually to each media outlet or reporter on your list, with a short personalized note.
Click here to download the press release template Word doc.
How to talk to reporters
To get your message out through the media, it's essential that you know how best to talk to reporters. The following tips will be helpful.
Know your message. Before you can share your message with the media, you need to have a thorough command of that message. See the "Talking Points" section above.
Get back to reporters promptly, preferably by phone. When you hear from a reporter, return their call or email as soon as possible—leaving time to brush up on your talking points if need be. Reporters are often working on a deadline, and you could lose your chance to get your message out if you wait too long to respond. Phone is often best for a quick reply.
Stick to your message. Don't let yourself get side-tracked by issues unrelated to the specific purpose of your vigil, and don't be afraid to repeat yourself. If you get a question you don't have an answer for, say so, but then return to your message ("I don't have information on that, but what I can tell you is …").
Have copies of your press release with you at the event. Print out several copies of your press release to give to any reporters who turn up, along with copies of any literature you may be handing out to the public.
Give benefit of the doubt. Yes, there is a liberal bias in the media, and pro-lifers are often unfairly represented. But most reporters want to do a good job, so give them the benefit of the doubt. Never make negative comments about the media, or a particular media outlet.
Be friendly and shake hands. Having cordial relationships with reporters will only assist you in getting out your message. Always be kind and respectful to reporters, even if you sense any bias or disapproval.
Handle phone interviews differently than in person. In-person interviews are often easier than interviews over the phone, because you can get feedback on how well you're being understood, and you can see whether the reporter is recording or writing things down, and modify your talking speed accordingly. When doing an interview on the phone, you will need to pause between phrases to give the reporter time to write down your comments—unless unless you know the reporter is recording you (they will always ask permission to do so). When being interviewed for a live or recorded radio or TV program, be careful to keep your message short and clear, sticking to your main points.
Keep a list of every interview you do. Write down the name and media outlet of every interview you do, along with any contact information, for future reference. A reporter who has interviewed you once is much more likely to interview you again. You can also send information about future activities to each reporter you've talked to.
For more on talking to reporters and building relationships with the local media, read through the 10 Commandments of Media Relations [PDF] by Tom Ciesielka of TC Public Relations.